RENT A CAR WITH A SUPPLIED ENGLISH SPEAKING DRIVER
RISK, SAVE AND REQUIREMENT
1. No making Cambodian Driver's License is required.
2. No Deposit your Passports is required.
3. The Refundable Deposit is cheaper than a self-drive one, just only $300.00.
4. Most of our drivers are well-trained, friendly, and knew all the interesting places in Cambodia, even it is under the water, the cave, and/or on the top of the mountains, he can bring you to all the interesting places around Cambodia.
5. Car breakdown: Owner will take full responsibility to get it repaired or restored.
TERMS & CONDITIONS
1. Driver's Business Days and Hours: Monday to Saturday and 7:00 a.m. to 6:00 p.m. with 1 hour and 30 minutes break for lunch.
2. Sunday: Closes – If any require the driver to work on Sunday or on any official holidays, you will be requested to pay US$15.00 extra as an extra payment for the driver working on Sunday besides the normal working days
3. Driver's Meal and Accommodation: The quoted price is including driver's meal and accommodation in the province and stay overnight.
4. Overtime Rate (OT): USD5.00 per hour shall be applicable before 7:00 a.m. and/or after 6:00 p.m.
5. Driver's Rental Rates: Between $20.00 to $35.00 per day upon their qualifications and experience. The price is included his daily meal and accommodation outside the normal duty stations.
6. Public Holidays for the Driver: 12 days per year, they are:
6.1. International New Year Day 1 January (One day)
6.2. Cambodian New Year Days 14-16 April (Three days)
6.3. National Pchum Ben Days . . . September (Three days)
6.4. Water Festival Days . . . November (Three days)
6.5. Christmas Days 24-25 December (Two days)
7. Lyna-CarRental.Com and its driver reserves the rights to refuse to enter dangerous places or otherwise unsuitable situations and conditions should the Hirer or its clients request to take the vehicle to such dangerous places or unsuitable situations and conditions.
8. The vehicles are supplied with a full tank of fuel and the Hirer shall refill it when it is necessary and returns the vehicle with the same level of fuel. We strongly advise the use of premium grade (95) and recognized brand of fuel and lubricants only.
9. Lyna-CarRental.Com is responsible for maintenance and repair of defects from manufacturer that occur during normal usage of the vehicle, other than that cause directly as a result of the Hirer taken vehicle into a dangerous places or otherwise unsuitable situations and road's conditions.
10. Repair & Maintenance: Included
11. Each service includes engine oil, oil filter, air filter, fuel filter and labor charges (in Phnom Penh). Any extra charge as mentioned of the specified Lyna-Rental.Com and its partner's services maintenance program will be paid by the Hirer.
12. In case the vehicle can't come to service at Phnom Penh, the Owner will provide the service to maintenance at the site through Lyna-Rental.Com and service maintenance program only, but the Hirer must pay for transfer fee of replacement vehicle including (the technicians daily fee, fuel, food, accommodation, overtime, and round-trip means of transport etc . . . ).
13. PROHIBITION: No transport seafood, durian, smoke in the car are allowed. No open the window on the dusty road, otherwise, you will be imposed to charge...
SPECIAL NOTICES
No Durian allowed. US$100.00 will be imposed.
No Smoking allowed. US$100.00 will be imposed.
No Seafood allowed. US$100.00 will be imposed.
No Open the windows while driving on the dusty road. US$100.00 will be imposed.
Loss of key – USD80.00 including remote controller re-installation
OFFICE HOURS
Weekday: Monday – Saturday
Weekend: Sunday is closed
Working Hours: 08h00 - 17h00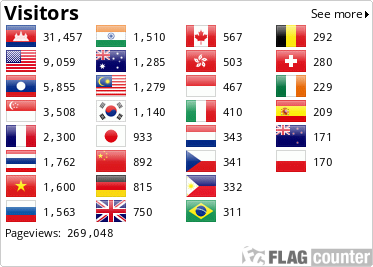 TESTIMONIALS
Date : 01-Jan-1970| Subject : I am very happy wit
Dear Savongz and Lyna Thank you for y...
Date : 01-Jan-1970| Subject :cambodge
I prepare a trip In Cambodia We want ...
ADD YOUR COMMENTS HERE