28 February 2017
28 February 2017, Kampong Cham Province . . . Lyna-CarRental.Com is the first supplier of supplying the fleets of Vehicles Rental with and English speaking drivers for the sub-contract agreement of Metro Global Services Pte Ltd., from Singapore to do the Signal Survey Project for NOKIA (Cambodia) Co., Ltd. on 3-monthagreements to cover all around the 25 provinces and municipalities in the Kingdom of Cambodia.Mr Makara Ben is one of our pleasant lokking and an English speaking drivers who is now working with an Indian Team and one-to-one customer.In Kampong Cham starting from the 10th of February, 2017 till now, we are deploying 3 cars and 3 drivers.Two cars and Drivers in Sihanouk Ville and 1 car plus driver in Phnom Penh.We wish them a very happy drive and be succeeded in their works and careers!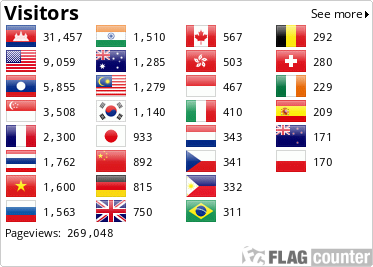 TESTIMONIALS
Date : 29-Sep-2017| Subject :We were happy with y
Dear Mrs Tan, We already rent a car w...
Date : 01-Jan-1970| Subject :rent a car with a dr
We are 4 persons and we want to rent a c...
ADD YOUR COMMENTS HERE